Keene & Seibert's attorneys maintain a rigorous schedule of professional outreach as sought-after educational resources for the healthcare industry.
Events
Nov 15, 2016 – Med Mal Seminar on Damage Caps
Mark A. Keene was honored to present a CLE-approved seminar to the Austin Bar Association's Health Law Section. The presentation addressed Damage Caps in Medical Malpractice Cases and the power point slide show is available on the Firm's home page, and upon request.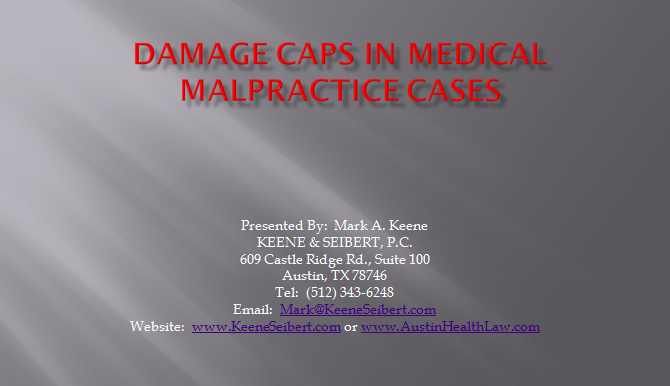 Medical Malpractice Presentation
News
Federal Court of Appeals Reverses Jury Verdict in Closely-Watched Employment Case
In a closely-watched appeal, the 5th Circuit Court of Appeals reversed a jury verdict, and rendered judgment for the Firm's client in aminimum wage/overtime claim brought against the defendant/franchisor by an employee of an independently-owned and operated franchisee. In Orozco v. Plackis, the Court of Appeals held that there was insufficient evidence to establish that the franchisor was the "employer" of the franchisee's employees under the "economic reality test" utilized to make that determination under the Fair Labor Standards Act. Because franchisors across the country are facing similar claims, and further because the 5th Circuit's decisions on employment law are cited nationwide, the case garnered national scrutiny. The appeal included briefs filed by ten (10) amici curiae (friends of the court), including briefs filed by the National and Texas Restaurant Associations supporting the franchisor, and the U.S. Department of Labor supporting the plaintiff worker. Mark Keene successfully represented the franchisor in this appeal, obtaining a unanimous decision from the 5th Circuit that reversed the jury's verdict and rendered a take-nothing judgment for the Firm's client. You can listen to the oral argument below.
DAVIS HONORED BY TEXAS HEALTHCARE TRUSTEES
Texas Healthcare Trustees recently honored C. Dean Davis with its prestigious Fifty Year Award, commemorating the Association's 50-Year anniversary, and Davis's many years of service as its legal counsel. The award recognized Davis's continued dedication to "excellence in governance" for healthcare trustees throughout Texas.
Dean Davis has been named to the University of North Texas Foundation
DFJK Founder and Managing Shareholder C. Dean Davis has been named to the University of North Texas Foundation, which manages the Foundation's investments and raises funds for scholarships. Davis also has been appointed by UNT Chancellor Lee Jackson to the Founders Board of Trustees for a new Law School at UNT.